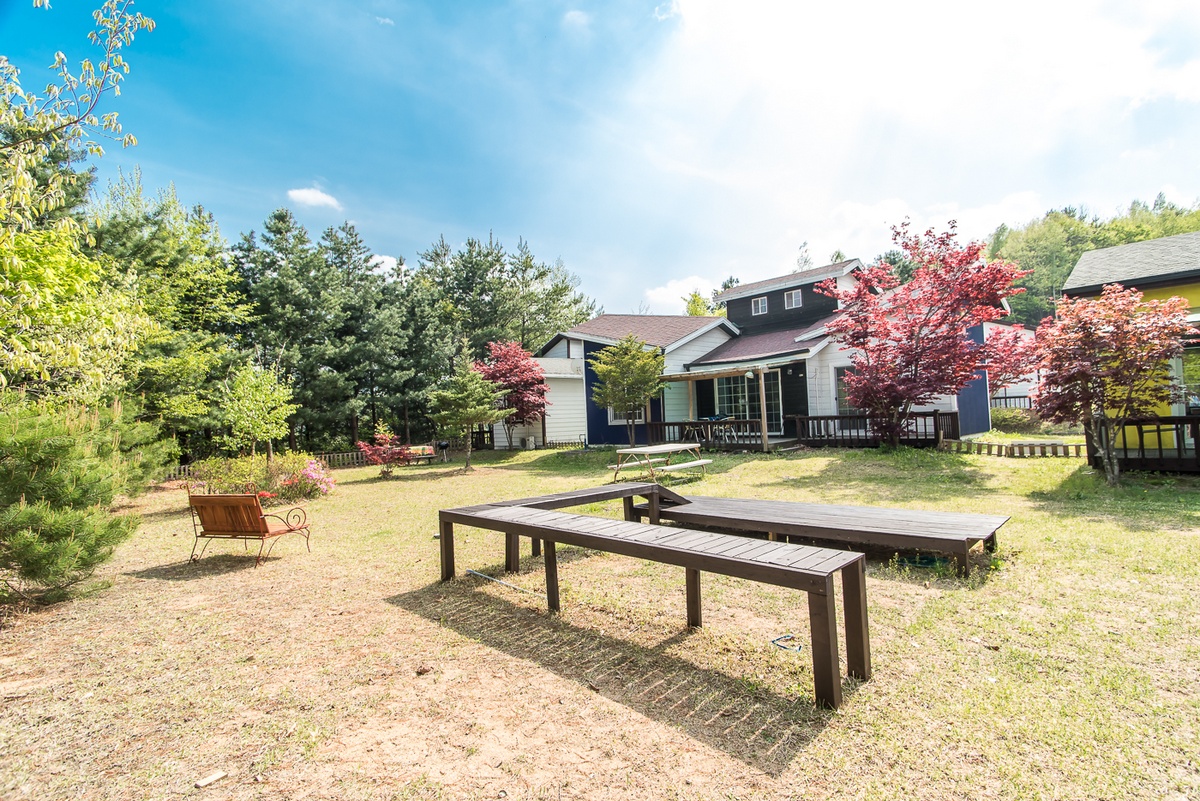 About Labien:
Labienvie is located in Pyeongchang, the host city of 2018 Winter Olympic Games. Labien is surrounded by beautiful landscape. All rooms have nice view and are detached and duplex so it is suitable for couples and families. Each room has terrace for barbecue without any intervention from other guests.
Special Feature:
Free Wifi and free parking is available for all guest.
All rooms are non-smoking.
Check-in time is from 15:00 to 22:00 and Check-out time is 11:00 of last day of stay.

How to make a reservation:
Contact us by phone : 82-10-5380-0617
Address:
250-60, Bongpyeongbuk-ro, Bongpyeong-myeon, Pyeongchang-gun, Gangwon-do, Republic of Korea
Room Amenities:
TV / Air Conditioner
Refrigerator
Fully-equipped kitchen / Electric rice-cooker
Hair dryer / Toiletries
Nearby Attraction:
Phoenix Park Resort
YongPyeong Resort
Alpensia Resort
Woljeongsa/Odaesan
Heungjeong Valley
Buckwheat Flower Festival (Hyoseok Cultural Festival)
Rooms:
C1 (Detached)
Guests per room : 2 persons ~ 3 persons
Room Size & Type : 33m2 - 1 Bed Room / 1 Kitchen / 1 Bathroom
Room Rate (Regular Season) : KRW 70,000
Room Rate (Peak Season) : KRW 170,000
C2 (Detache)
Guests per room : 2 persons ~ 3 persons
Room Size & Type : 33m2 - 1 Bed Room / 1 Living Room / 1 Kitchen / 1 Bathroom
Room Rate (Regular Season) : KRW 70,000
Room Rate (Peak Season) : KRW 170,000
C3 (Detached)
Guests per room : 2 persons ~ 3 persons
Room Size & Type : 33m2 - 1 Bed Room / 1 Kitchen / 1 Bathroom
Room Rate (Regular Season) : KRW 70,000
Room Rate (Peak Season) : KRW 170,000
C4 (Detached)
Guests per room : 2 persons ~ 3 persons
Room Size & Type : 33m2 - 1 Bed Room / 1 Kitchen / 1 Bathroom
Room Rate (Regular Season) : KRW 70,000
Room Rate (Peak Season) : KRW 170,000
F1 (Detached/Duplex)
Guests per room : 4 persons ~ 4 persons
Room Size & Type : 60m2 - 2 Bed Room(s) / 1 Kitchen / 1 Bathroom
Room Rate (Regular Season) : KRW 120,000
Room Rate (Peak Season) : KRW 250,000
F2 (Detached/Duplex)
Guests per room : 4 persons ~ 4 persons
Room Size & Type : 60m2 - 2 Bed Room(s) / 1 Kitchen / 1 Bathroom
Room Rate (Regular Season) : KRW 120,000
Room Rate (Peak Season) : KRW 250,000
G1 (Detached/Duplex)
Guests per room : 6 persons ~ 10 persons
Room Size & Type : 110m2 - 1 Ondol Room / 2 Bed Room(s) / 1 Living Room / 1 Kitchen / 1 Bathroom
Room Rate (Regular Season) : KRW 200,000
Room Rate (Peak Season) : KRW 360,000